Once Upon a Time at the Hammerstein Ballroom, Part II: The Massacre on 34th Street
Written by: Zach Winston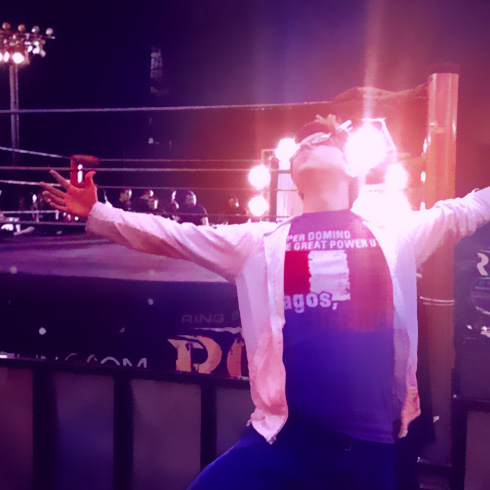 For wrestling fans, certain venues have become bucket-list destinations, the way music fans might travel to Red Rocks or The Greek, or baseball fans might visit Fenway Park or Wrigley Field. In that same way, certain events have become those same people's version of Coachella and Bonnaroo, or the World Series and the All-Star Game. The Hammerstein Ballroom is one of those venues, and Wrestlemania has become the event.
My first time at The Hammerstein Ballroom was on Friday, April 4th, 2013. Wrestlemania 29 was taking place at MetLife Stadium that Sunday and, as-is-tradition, every major wrestling promotion in the region booked cards for the same weekend to capitalize on tourism in the days leading up to the big event.
One such promotion was Ring of Honor (ROH).
Following WWE's acquisition of ECW in 2001, ROH was repurposed from what was left of the old Philadelphia territory. With the adjacent Combat Zone Wrestling (CZW) satisfying the extreme fans of old's bloodlust, ROH focused more on technical shoot-based wrestling that resembled what viewers might have seen in an MMA bout - which was beginning to become very popular in the United States.
While WWE/F may have booked 25 cards at The Hammerstein Ballroom in the infancy of Monday Night Raw (28 including One Night Stand- WWE's answer to the nostalgia for ECW in 2005 and 2006), ROH booked 23 cards there from 2006 to 2019. And even though ECW's Massacre on 34th Street in December of 2000 still boasts of highest-attended wrestling event in the venue, the territory only booked 10 cards there from 2000 to 2001. So if there's any wrestling promotion that deserves to call the famous venue home, it's ROH.
Their first encounter was December 23rd, 2006, for ROH's annual year-end event, Final Battle.
The card featured a "who's-who" of great wrestlers that would go on to have rich careers, including Adam Pearce (currently booking - and serving as an on-screen official - for WWE), Bryan Danielson (FKA Daniel Bryan in WWE, currently working for All Elite Wrestling), Claudio Castagnoli (currently working as Cesaro in WWE), Colt Cabana (famed podcaster, and currently working for AEW), El Generico (currently working as Sami Zayn in WWE), Matt Sydal (FKA Evan Bourne in WWE, currently working for AEW), Nigel McGuinness (currently serving on commentary for NXT UK, a division of WWE), and Roderick Strong (currently working for NXT, a division of WWE).
At this time in pro wrestling history, WWE had just-short-of monopolized the entire industry. The final remaining slice was distributed multiple ways, with ROH taking a slightly-smaller-sized portion as TNA- Total Nonstop Action, the only other promotion - apart from WWE - with major cable television representation. But after a critically acclaimed card from what was becoming an iconic wrestling venue, ROH had securely placed itself in the role of third-party disruptor, just as their predecessor ECW had a few years prior.
For many wrestling fans my age - who had likely stopped watching regularly sometime around fall of 2001 when we were all forced to grow up real damn quick - Wrestlemania XXIV marks our return to the WWE Universe. The reason for this likely comes from the hype behind the match between our childhood heroes Shawn Michaels and Ric Flair who - if he were to lose - would have to retire from the business for good.
All of my dorm-mates and I threw in ten dollars each - for the pay-per-view and the pizza - and gathered around a television in the common area to watch the wrestling equivalent of Willie Loman facing obsoletion in a profession that once brought him tremendous joy and success, confronting his son Biff - only ever wanting to please his father - who slaps him in the face with the reality of his own mortality. If Arthur Miller were to book a wrestling match for the WWE, I imagine it would have looked something like this one.
That same year, ROH hosted three events at The Hammerstein Ballroom, one of which was Death Before Dishonor VI- my first experience with the rising promotion.
It featured a four-way main-event pitting champion Nigel McGuinness against Claudio Castagnoli, Bryan Danielson, and Tyler Black. There's not much I remember about that match - four-way matches, while exciting, lend themselves to chaos which doesn't serve memory well - all I remember is the feeling of frustration as to why major television wrestling couldn't put on matches and shows like ROH could. But as of 2016, all four of those wrestlers were working for WWE in some capacity and are continuing to thrive today.
Given how many future-stars passed through The Hammerstein Ballroom with ROH, ECW, and WWE over the years, it makes me wonder where some of the GCW wrestlers I saw there last month will be a decade from now.
Game Changer Wrestling (GCW) was forged in the depths of New Jersey's rich independent wrestling scene by owner/promoter Brett Lauderdale. Formerly Jersey Championship Wrestling, Lauderdale bought the territory in 2015 with the intention of rebranding it into something completely different from what was happening in wrestling at the time. Like Wynn Handman's American Place Theatre, Lauderdale's GCW became an expansive laboratory for the maddest of experiments in the medium.
While WWE waxed progressive on their first all-female Wrestlemania main-event, GCW was not-only nurturing LGBTQ talent, but giving them opportunities to be top workers. While Vince McMahon was crowning his first African American world champion, Lauderdale was not-only featuring BIPOC talent from across the globe, but consistently including them in his advertising, making it clear that - no matter who you are, wrestler or fan - there's a place for you in GCW.
When Paul Heyman sold ECW to Vince McMahon in 2001, he took on a leading creative role that he maintains to this day. Brett Lauderdale is considered by many to be this generation's Paul Heyman due to their unconventional abilities to captivate the "adult" wrestling niche. If someday (knock-on-wood) GCW met a similar fate as ECW, it's easy to picture Lauderdale taking on a similar role as Heyman's. But given their partnership, as-well-as the overlap in targeted audiences, AEW would likely be the place for him as opposed to WWE.
The cast of over sixty characters Lauderdale chose for his promotion's first venture to The Hammerstein Ballroom - The Wrld on GCW - was fully indicative of the all-inclusive wrestling world he's been trying to create.
It opened with four multi-competitor matches, including a twenty-person battle royale (where the object is to throw your opponents over the top rope to the floor until one final competitor remains), a six-way scramble (where six competitors face off in no-holds-barred combat until one scores a pinfall/submission victory in the ring), a "grab the brass ring" ladder match (where an item - in this case, a brass ring - is suspended high above the canvas which, using ladders located at ringside, will earn a title match for the one who obtains it), and a lucha-libre-style trios tag match (three-on-three).
Featured in these four demolition derbies were Alex Colon- a modern hardcore legend of Puerto Rican descent, The Dark Sheik- an Iranian trans woman, Grim Reefer- a high-flyer who reacts to marijuana the way Popeye reacts to spinach, PCO- a fifty-four year-old veteran journeyman, Psycho Clown - a masked luchador from Mexico City, and Thunder Rosa- an exceptional talent from Tijuana adorned in calavera makeup who can take full credit for the Hammerstein crowd's first of many big "pops" of the evening, which she accomplished by simply entering the arena.
And while the trios match may have featured the most cunning stunt of the evening - with all six competitors engaging in a game of double-decker chicken - the most compelling characters were still to come.