Once Upon a Time in East Rutherford, New Jersey - Part II
Written by: Zach Winston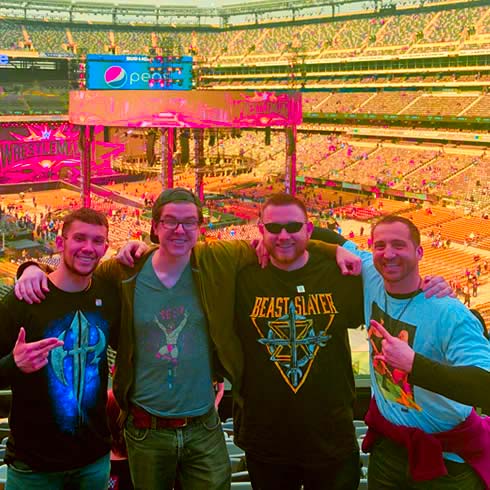 In October of 2019, about six or seven months after having attended WrestleMania 35 with my theatre friends, I'd gathered what I thought was three hours of shareable samples loosely weaved together to create something vaguely resembling a play. Turned out I had actually written about five hours of content and, if it hadn't been close to midnight by the time we finished, the conversation may have gone on just as long.
That December, right before the new year, we gathered again, this time at my WrestleMania buddy Jay and his girlfriend Emily's apartment in Brighton. I'd narrowed the assortment of acts and scenes down to two comprehensive full-length plays (much shorter this time) along with some new content.
Here's where I think things started to click for my colleagues and I alike - we were engineering an open-ended serial where each installment could stand on its own as well as it could serve as a piece of a greater whole. But then, of course, the world ended.
We had a workshop reading scheduled for that March, back when COVID-19 was still a relatively new term in the global medical-science lexicon, and we were able to squeeze in one last in-person reading before jumping onto the Zoom train.
After about a month of work, I had written far-too-much content to possibly be able to wait multiple weeks before the next workshop. So, with many of my fellow artists and colleagues in a similar position, we increased our output from monthly to weekly Zoom workshops. Before I knew it, I'd created a ten-hour, ten-act, eighteen-character (and counting) monster for the stage about crime, television, and professional wrestling.
Emily, who had become an essential part of the project's development since the reading that December, took it upon herself to create and operate social media accounts to market the project resulting in a Zoom reading series over Facebook Live.
It manifested in the form of an eight-part episodic titled Through The Big Times and Back. It was very successful, garnered a great deal of attention, and raised a number of funds for the hosting institution from Episode I: Welcome to The Big Times this past September, to Episode VIII: Once Upon a Time in The Big Times three months later.
While Zoom theatre has been a unique and effective way to keep us creative during a global pandemic, it also made us hungry for the stage. We were relatively early adopters of the format, which is why I think it's important we be among the first to think about what theatre might look like in the new world.
We have an opportunity to make theatre bigger and, in many ways, better than it has ever been before. An open-ended experiment in episodic theatre about professional wrestling in the 70s and 80s may not be the answer, but it could be a good place to start.