Once Upon a Time at the Hammerstein Ballroom, Part III: Final Battle
Written by: Zach Winston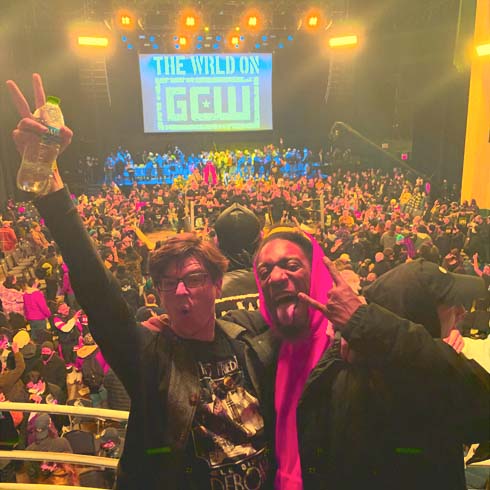 In general, the ethereal spirit - astrology, religious iconography, crystals and the like - has never been a strong belief of mine. But I do believe in the emotional spirit of people, places, and things. People carry their experiences, beliefs, and strengths in their internal cloud which - through the use of certain objects or tools which gain sentimental value over time - leaves little pieces of itself behind when labored, aroused, or impacted. In that sense, The Hammerstein Ballroom might have more spirit than any other venue - theatre, music, wrestling, or otherwise.
Apart from wrestling events, my only other time visiting The Hammerstein Ballroom was for an alt-J concert in September, 2013 - just a few months after Wrestlemania weekend where I'd seen ROH's Supercard of Honor VII, featuring ring veterans Matt Hardy, Rhino, and Shelton Benjamin, as-well-as future television-wrestling stars Adam Cole (NXT/AEW), Bobby Fish (NXT/AEW), Cedric Alexander (NXT/WWE), Jay Lethal (AEW), Karl Anderson (WWE/AEW), Kevin Owens (FKA Kevin Steen, NXT/WWE), Kyle O'Reilly (NXT/AEW), QT Marshall (AEW), and Roderick Strong (NXT).
While the spirits of these all-time great wrestlers prominently inhabit the walls and floors of The Hammerstein Ballroom, there are many other ghosts walking among them in quite a literal sense, like David Bowie- who performed at the venue for his last time in 2006, Jerry Garcia of The Grateful Dead- who recorded part of their 1971 live album Skull & Roses at the venue before going certified gold, and countless others over the course of the Hammerstein's century-long life who have ceased to exist from it's plain of existence.
But living-spirits also inhabit the beloved performance space- Britney Spears, who performed her first solo New York City performance there; Howard Stern, who celebrated his 60th birthday there; Incubus, who had the daunting task of being the venue's first performers after the 9/11 attacks; Jane's Addiction, whose Halloween '97 performance extended all the way up to the balcony where they performed the encore; and Patti LaBelle, whose concert recording from the venue earned her one of many Grammy awards throughout her illustrious career.
Upon stepping into the queue outside the Manhattan Center on that cold evening last month with my friends Brion and Jay, the spirit was alive. As attendants checked vaccination cards, the crowd filed in with fiendish delight in anticipation of GCW's biggest outing to-date. As security guards haphazardly waved their wands over the pockets of our winter coats, the once-distant thunder of the crowd grew to a fever pitch. And as the ushers scanned our tickets and directed us to our seats in the rear mezzanine, the spirits of all the giants who once walked those floors - from Oscar Hammerstein to Vince McMahon - were almost as present as the very wrestlers in the very ring before me.
One of the most highly anticipated matchups for the evening was Matt Cardona versus Joey Janela, placed snug in the very middle of the card.
Formerly Zack Ryder of the WWE, the 36-year-old Cardona came to prominence by becoming one of wrestling's first big social media stars. At a time where the wrestling conglomerate feared that platforms like Twitter and Instagram might "expose the business," Cardona's YouTube channel earned the under-card hero immeasurable favor of the WWE Universe. Over the years, we developed such a strong affection for the "Long Island Iced Z" that WWE could no longer ignore him, and sent Cardona straight into a main-event storyline involving wrestling mega-star John Cena.
Unfortunately - due to WWE's late-adoption of social media as a marketing tool - the storyline was unceremoniously scrapped, sending Cardona back down to the bottom of the card where he floundered until March 20th, 2020- his final match on Monday Night Raw. But, in-spite-of McMahon's lack of vision, our love for Cardona never faltered. No matter how much he lost, we always cheered him on. No matter how bad he got beaten down, we were always there to lift him back up. And no matter how often the neckties-and-pencil-skirts in Stamford, Connecticut told him "no," we were always the ones saying "yes."
So naturally - when Cardona defeated GCW's beloved deathmatch king Nick Gage for the title at The Showboat (the promotion's own spiritual place-of-worship) - we turned on him (CW: graphic violence and blood, skip to 5:05 for the important part).
His opponent for The Wrld on GCW was Joey Janela of New Jersey - the Long Islander's natural enemy. Majorly utilizing social media in-wake-of Cardona's legacy, Janela came of age on the northeast independent circuit working for companies such as CZW and Beyond Wrestling. By 2017, Janela had become an indie-wrestling darling, eventually working his way to the west coast for the Southern California-based Pro Wrestling Guerrilla (PWG). So when All Elite Wrestling (AEW) was founded two years later - promising to feature the greatest unsigned talent from all across the world, and become the first major challenger to WWE in over 20 years - Janela was a perfect candidate.
The match itself wasn't exactly an "athletic spectacle." In fact, The Wrestling Observer Newsletter - one of the most trusted sources in pro wrestling since 1982 - rated the match 1-out-of-5 stars. But what it did provide was a heightened theatricality which - when done correctly, as it was here - creates a highly memorable and oftentimes-thrilling experience.
Cardona and Janela tee'd off on one-another like a vaudevillian comedy team delivering a barrage of witty punchlines - Cardona's fiancé Chelsea Green chiming in with the occasional zinger. Several guests such as WWE/F legends Virgil, Hornswoggle, and X-Pac made appearances during the match, like Luther Vandross and Mariah Carey showing up during Patti LaBelle's famous concert. And even though the overall performance might not be considered a "traditional" wrestling match, it very much followed in the spirit of The Hammerstein Ballroom's mission to provide something unique to its audiences.
Much like GCW itself, Cardona and Janela had created something truly unique. But the next two matches featured what might be GCW's most compelling characters, which pretty much puts them among the most interesting people in all of wrestling today.
It should come as no surprise to anyone that, over the course of pro wrestling's existence, it has mainly catered to the heteronormative (which I say cynically) cis-male vision. Wrestling's first big openly-gay performer didn't reveal himself until 2004 when Chris Kanyon came out of the closet, only to take his own life seven years later while working on a novel documenting his struggles. "Gay" and "effeminate" were heel gimmicks, which would be met with scorn from the crowd, such as when - at ECW's Massacre on 34th Street at The Hammerstein Ballroom in 2000 - Simon Diamond and Swinger were met with raucous "you-suck-dick" chants.
Women were not allowed to wrestle at Madison Square Garden until 1972 - over fifty years after winning the right to vote. Throughout the 90s and 00s, women were given the unrealistic expectation of being both wrestlers as-well-as Playboy bunnies - a former NFL cheerleader could likely have a faster rise than a girl who had trained in the ring her entire life.
Enter: Bussy - a mixed-gender tag-team consisting of "The Weapon of Sass Destruction" Effy, and the knife-wielding Allie Katch, who would each be performing in dream-matches at The Wrld on GCW.
The 27-year-old Katch's opponent for that night was Ruby Soho- a ten-year veteran adorned with elaborate tattoos and piercings, named after the famous Rancid song. While Katch was busy becoming one of the standard-bearers of GCW, Soho was working as Ruby Riott- leader of WWE's The Riott Squad (one of maybe-two actual tag-teams in the women's division at the time). And while either of these women could eat any cheerleader or Playboy bunny for breakfast, neither could exist in a time before their own. And we're all damn lucky to have fallen within that window.
The fishnet-clad Effy's opponent was wrestling legend Jeff Jarrett- "the last outlaw" from Tennessee, wearing a black suit with matching cowboy hat, and carrying a guitar over his shoulder as he entered. Following the man in black's entrance, Elton John's Goodbye, Yellow Brick Road bounced off the ancient walls of the Hammerstein Ballroom - the crowd bellowing along in unison - and in comes Effy, in all his queer glory, wearing a metal-studded pink leather jacket, the word Daddy etched across the crotch of his black vinyl trunks. They were the antithesis of one-another's characters, which made Effy and Jarrett the perfect opponents to tell the perfect story in the ring- one that could never have been told before.
Much like Cardona/Janela, neither of these matches received favorable ratings on the Meltzer scale. But unfortunately, there is no scale for unique storytelling. There is no scale for gauging a modern social paradigm shift. Hulk Hogan versus Andre the Giant at Wrestlemania III also only scored one star from The Wrestling Observer Newsletter, and yet that match is largely credited for making professional wrestling what it is today. The actual, practical nuts-and-bolts of a so-called "five-star match" don't matter when trying to create something memorable and unique. What matters is that - in spite of years of adversity, lifetimes of flagrant sexism and homophobia - wrestlers like Allie Katch and Effy have finally found a place where they can tell their in-ring stories the way titans like Stone Cold Steve Austin, Bret 'The Hitman' Hart, and 'Macho Man' Randy Savage have.
And good-god were they fabulous.
The evening closed with two title matches- Jon Moxley versus indie legend Homicide for the GCW Championship, and The Briscoe Brothers (the only ones on the card who I'd also seen at ROH's Supercard of Honor VII nine years prior) defending their titles in an open-challenge, to be determined at the time of the main event. Moxley - who was competing in one of his first matches after a brief leave-of-absence for drug/alcohol rehabilitation - defended the title in a thrilling contest, and The Briscoes' opponents were revealed to be deathmatch legends Matt Tremont and Nick Gage.
Maybe 2022's edition of The Wrld on GCW won't go down as one of the all-time-great wrestling cards, but it makes sense that such a promotion would want to make The Hammerstein Ballroom their new home. In a place with such near-palpable spirit that a typical independent wrestling venue such as your local VFW or Elk's lodge can't provide, GCW cemented themselves as the first bastion of social change in the industry. If Chris Kanyon were alive to see Effy's Big Gay Brunch - a yearly wrestling card hosted by GCW consisting of LGBTQ+ wrestlers and allies - he would be regarded as a hero. If the ladies who were booked on those first MSG cards in 1972 saw the way Allie Katch and Ruby Soho worked that night, they might not believe their eyes. But I was one of the lucky 2,000+ who got to see it happen in real time, and I will not soon forget.
Even if you're too pretentious to admit it, professional wrestling is an art-form. It's the performing arts, and requires the same level of training and discipline as any conservatory program in any artistic medium. You can watch it like a sport, you can follow it like a television series, you can dissect it like a fine work of classical drama or modern dance. It can make you laugh, it can make you cry, it can make hundreds-of-thousands of people jump to their feet, screaming in syncopated rhythm, "this-is-awe-some (clap-clap-clapclapclap)." There's simply nothing else like it.
As the guy sitting backstage watching WWE pay-per-views while waiting for my entrances during various plays and musicals over the course of my acting career, I've spent a lot of time justifying my love for such a thing as pro wrestling to people who - for all intents and purposes - should be able to appreciate such a special form of performance art. But the fact of the matter is that most of the people I was working with couldn't see themselves in it at the time, and therefor couldn't relate. I was just some straight dude in my twenties - the exact audience wrestling was trying to attract - I saw myself represented every Monday night. Most other people could not say the same.
I'm not trying to make people into wrestling fans with this project, I don't intend on "converting" anyone with this blog, I'm not working undercover for WWE - or GCW for that matter. But we're living in a time where more types of people are being represented on a larger scale than ever before and, if I could get just one of those people from before to appreciate wrestling as the performing arts, I'll consider my work done.
Alternatively, if I could get just one wrestling fan - who'd never experienced it before - to have a cathartic experience from a work of theatre, all-the-better.